Britain given 48 hours to come up with Brexit breakthrough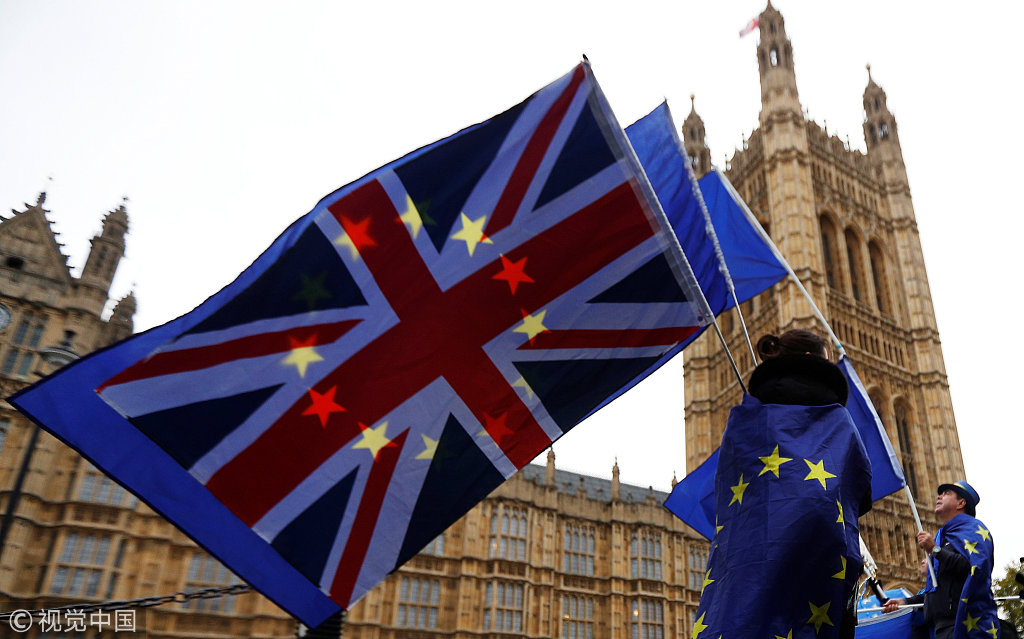 European leaders skeptical about extending withdrawal process
European Union officials have told the United Kingdom they are willing to work non-stop over the weekend to help facilitate Britain's departure from the EU provided Prime Minister Theresa May's government can come up with "acceptable" ideas to resolve the problem of the Irish backstop by Friday.
Despite the UK's claim that "reasonable" proposals have been put forward, there is no sign of progress on resolving the issue of the backstop, the arrangements to avoid a hard border between Northern Ireland and the Republic of Ireland in the event of a no-deal Brexit.
Britain is keen to avoid an arrangement which would leave the border subject to EU rules indefinitely after the country's departure from the bloc, currently scheduled for March 29.
France's Europe Minister Nathalie Loiseau met Brexit secretary Stephen Barclay on Thursday and urged Britain to clear the fog of uncertainty.
"We clearly don't want to lecture but the clock is really ticking and I do think it would have been better for people and businesses to live in more certainty than they are today," she said.
Loiseau said Britain was clear about what it did not want from Europe, but less so about what it did want. This meant European leaders were skeptical about extending the Article 50 withdrawal process.
"There needs to be something specific to justify an extension" she said. "This is not only what (French president) Emmanuel Macron is saying, the German chancellor, Angela Merkel, was in Paris last week and said the same thing. And a number of my counterparts throughout the European Union call me for frequent discussions and we all have the same sense.
"A short extension: why not, if there is a good and credible reason. It's really a British initiative which has to come, and it has to be supported domestically."
May's previous attempt to earn parliamentary support for her Brexit proposals resulted in a crushing defeat. MPs are due to vote on them again next week. If that also fails, there will be a vote on leaving with no deal, or delaying the March 29 departure date.
Speaking on the BBC Radio 4 Today program, Chancellor Philip Hammond warned May's opponents they were playing a risky game.
"If the prime minister's deal does not get approved on Tuesday then it is likely that the House of Commons will vote to extend the Article 50 procedure… and where we go thereafter is highly uncertain," he said.
"For those people who are passionate about ensuring that we leave the European Union on time it surely must be something that they need to think very, very carefully about now."
More bad news has come from the Organization for Economic Cooperation and Development (OECD), which says that a no-deal Brexit would send the UK economy into recession.
Even if a deal can be agreed, the think tank warned, annual growth in 2019 will slip below 1 percent for the first time since the financial crisis of a decade ago.
"There is no better trade agreement for the UK than the EU single market," said the OECD chief economist, Laurence Boone. "Every step back from this arrangement makes it more difficult for the private sector."
Contact the writer at [email protected]