Moon goddesses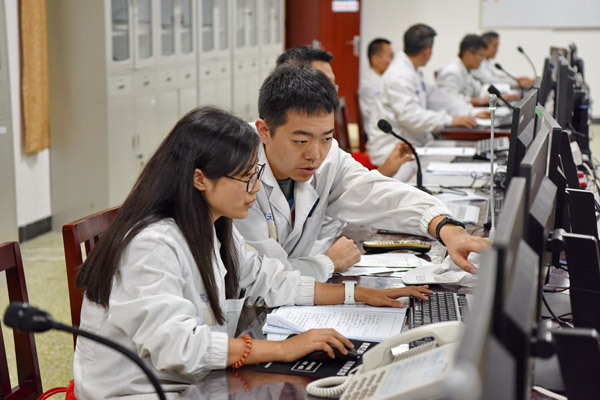 Yu Fei takes a look at female scientists and engineers associated with China's lunar mission.
The moon has traditionally been associated by the Chinese with women, maybe because the menstrual cycle is roughly the length of the waxing and waning lunar cycle.
Even China's lunar exploration program is named after the Chinese moon goddess Chang'e, and many of the scientists and engineers in the program are women.
Enviable couple
In Chinese legend, Chang'e flew to the moon and became a goddess, but could never return to Earth to reunite with her husband.
She would have envied a young couple in the research team that developed the Chang'e-4 probe, which made the first soft landing on the far side of the moon this year.
Qi Tianle married her beau, Ma Qianli, in September, after dating for about 10 years. On their wedding night, they packed for a special three-month honeymoon. The next day (Sept 10) they set off to the Xichang Satellite Launch Center in the mountains of Southwest China's Sichuan province to prepare for the launch of Chang'e-4.
Former classmates, they had both gone to work in the China Academy of Space Technology after graduating from university in 2013, and joined the Chang'e-4 team in 2017.
They had picked the date for their wedding a year earlier, but later found it coincided with transport of the probe to the launch center. Their colleagues didn't want their wedding delayed, and told them to go to the launch center after the ceremony.
Just two days after they took their marriage vows, they made a pledge to complete the mission successfully before the national flag at the launch center.
Although they spent most of their honeymoon period in front of computers preparing for the launch, they enjoyed taking walks in the moonlight after dinner.
"We are happy to see Chang'e-4 carry our hopes to visit the moon," Qi says.