Shandong University pursues global excellence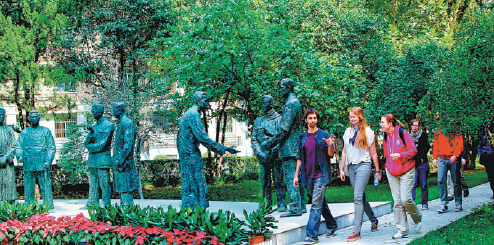 As a key university with a long history, variety of disciplines and academic strengths, Shandong University will lead in scientific innovation and academic research to become a world-class university with distinctive Chinese characteristics, said its president Fan Liming, who is also a deputy to the 13th National People's Congress.
"We will provide research staff with encouragement and support as they are devoted to scientific achievement and bear hardship over decades," Fan said.
In 2018, Shandong University invested 2.3 billion yuan ($343 million) in scientific research and development, up 32 percent year-on-year.
The university's funds for the transformation of scientific and technological achievements reached nearly 100 million yuan. Around 30 contracts were signed.
In 2017, Shandong University joined the list of world-class universities. Sixteen of its research fields have entered the top 1 percent globally.
The rankings were set by the Essential Science Indicators, an authoritative evaluation tool for measuring scientific research performance.
Fan said that Shandong University has used its advantages in academic fields and focused on technological innovation in areas such as advanced materials, intelligent manufacturing and healthcare. The university will continue to build its brand and improve innovation and achievement conversion capabilities.
Over the past decades, Shandong University cultivated many renowned experts in China's scientific history.
They include embryologist Tong Dizhou who initiated China's first research in cloning fish; Shu Xingbei, renowned as "the father of Chinese radar"; and the famous marine biologist Zeng Chengkui.
The number of the university's papers included in databases for Science Citation Index Expanded almost ranks in the top 10 among all universities in China.
"We will aim at strengthening research on basic theories and center on the latest technological frontiers to carry out key scientific projects and help the nation become stronger in fields such as aviation, internet, transport, digital technology and smart society," said Fan.