Preparations point to peak performance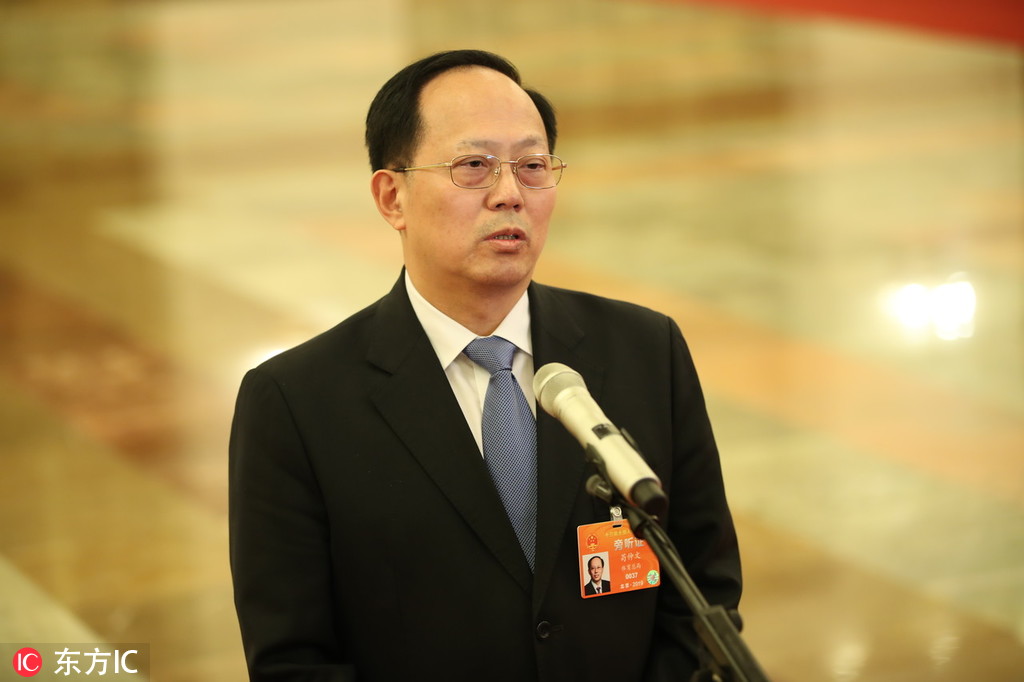 Record gold haul in 2022 achievable as bold policies bear fruit, says minister
China is confident of racking up its biggest ever Winter Olympics gold-medal haul when it hosts the 2022 Games in Beijing and Zhangjiakou.
Three years out from the showpiece event that target is looking ever more achievable thanks to a bold cross-sports training program which has been implemented with the help of some of the West's finest coaches.
"Making the 2022 Winter Olympics a great success is not just about staging a well-organized Games, it's also about achieving the best possible athletic results," said Gou Zhongwen, minister of the General Administration of Sport of China, at the annual session of the National People's Congress last Friday.
The target, Gou elaborated, is for Chinese athletes to qualify for all 109 events, with the ultimate aim of surpassing the nation's previous best performance at a Winter Games - five golds in an 11-medal haul in Vancouver 2010.
To put the 2022 target into perspective, China qualified for 55 events at the 2018 Pyeongchang Games in South Korea, finishing with nine medals but just one gold, claimed by Wu Dajing in the men's 500m short-track speedskating.
Since being awarded the 2022 Games in 2015, the country has mobilized all possible resources and is adopting some unconventional methods to build teams for all 109 events.
China, which made its Winter Olympics debut at the 1980 Games in Lake Placid, New York, has signed partnerships with 15 winter sports powerhouses, such as Norway, Finland and Austria, to import coaching expertise and send athletes to train overseas for most of the snow-based events.
A legion of 80 foreign coaches, fitness trainers and technical experts from Europe and North America have been working with Chinese teams on a scale never seen before, said Gou.
"To have the world's best on our side and to prepare alongside top competitors has helped us close the gap to the top nations," said Gou.
During the last Olympics cycle, China hired 20 foreign experts to prepare its athletes for Pyeongchang.
Encouraged by their experience in South Korea, some of those athletes are hoping for bigger things in 2022.
After helping Chinese pilot Geng Wenqiang qualify for the men's skeleton for the first time in Pyeongchang, former German world champion Wilfried Schneider and Canadian Jeff Pain, silver medalist at the 2006 Turin Games, have extended their contracts with Team China for the 2022 preparations.
Under their guidance, Geng continues to make progress in the sliding sport. On Friday, he became the first Chinese to make it to a final run at the bobsled and skeleton world championship in Whistler, Canada, before eventually finishing 17th overall among the 36 entrants.
In addition, a 150-strong Chinese team of cross-country skiers, freestyle snowboarders and ski jumpers recently spent a month honing their skills at Finland's Vuokatti Olympic Training Center.
"The level of Chinese athletes' individual skills is not at the elite level yet but their potential is world-class. The goal is clear that we want to help them be the best and we believe we can do it," said Veikko Halonen, CEO of Vuokatti.
Meanwhile, an experimental program of drafting potential winter Olympians from summer disciplines, such as gymnastics, martial arts and athletics, made sound progress in 2018.
According to Gou, 4,000 athletes were selected from 20,000 hopefuls at tryout camps with the aim of converting them to winter sports such as freestyle skiing, snowboarding and bobsled.
"By implementing this initiative, we have dramatically deepened our talent pool and strengthened our competence in winter sports," said Gou.
While some observers remain skeptical about the selection policy, it's hoped it will at least provide a starting point for China in events where it has had little or no experience.
"Because we didn't have any serious participants in events such as men's ski jumping, it's more practical to borrow talents from events requiring similar physical conditioning rather than starting from zero," said Fan Qingbin, president of Songjiang Wushu School in Shandong province.
Boasting exceptional flexibility and core strength, about 200 young martial artists aged between 14 and 16 have been selected for national programs in ski jumping, sports climbing and skateboarding in preparation for both 2022 and the 2020 Summer Olympics in Tokyo.